We increase added value in the value chain
Climate change encourages various industries to look for solutions to reduce CO2 emissions. In transport for example, this means electrification and, in car traffic, a transition from internal combustion engine cars to electric cars, which will increase the demand for lithium-ion batteries. According to the latest market forecasts, by 2031, battery cell production of more than 1,200 GWh will be emerging in Europe, and this will require the production of precursor and cathode active materials as well as the production of battery chemicals needed to manufacture such materials.
10%
Share of rechargeable cars in the car fleet in 2021
23%
Share of rechargeable cars in the car fleet in 2025
Source: Bloomberg NEF, Electric Vehicle Outlook 2022.
Towards a solid value chain
Our strategy based on co-investing has been well received by the market, and our joint projects for the production of battery materials have also made promising progress. Our goal for the next few years is to create a solid battery value chain in Finland, which can be developed by expanding our operations.
In addition to battery materials based on mineral raw materials, we aim to identify opportunities for the use of bio-based, renewable natural resources. This is one of the ways to reduce mineral dependence in the battery value chain.
What is a battery value chain?
The value chain of lithium-ion batteries is long and multi-stage. In addition to raw materials, the value chain includes the production of chemicals, cathode and anode materials, as well as battery cells and packs.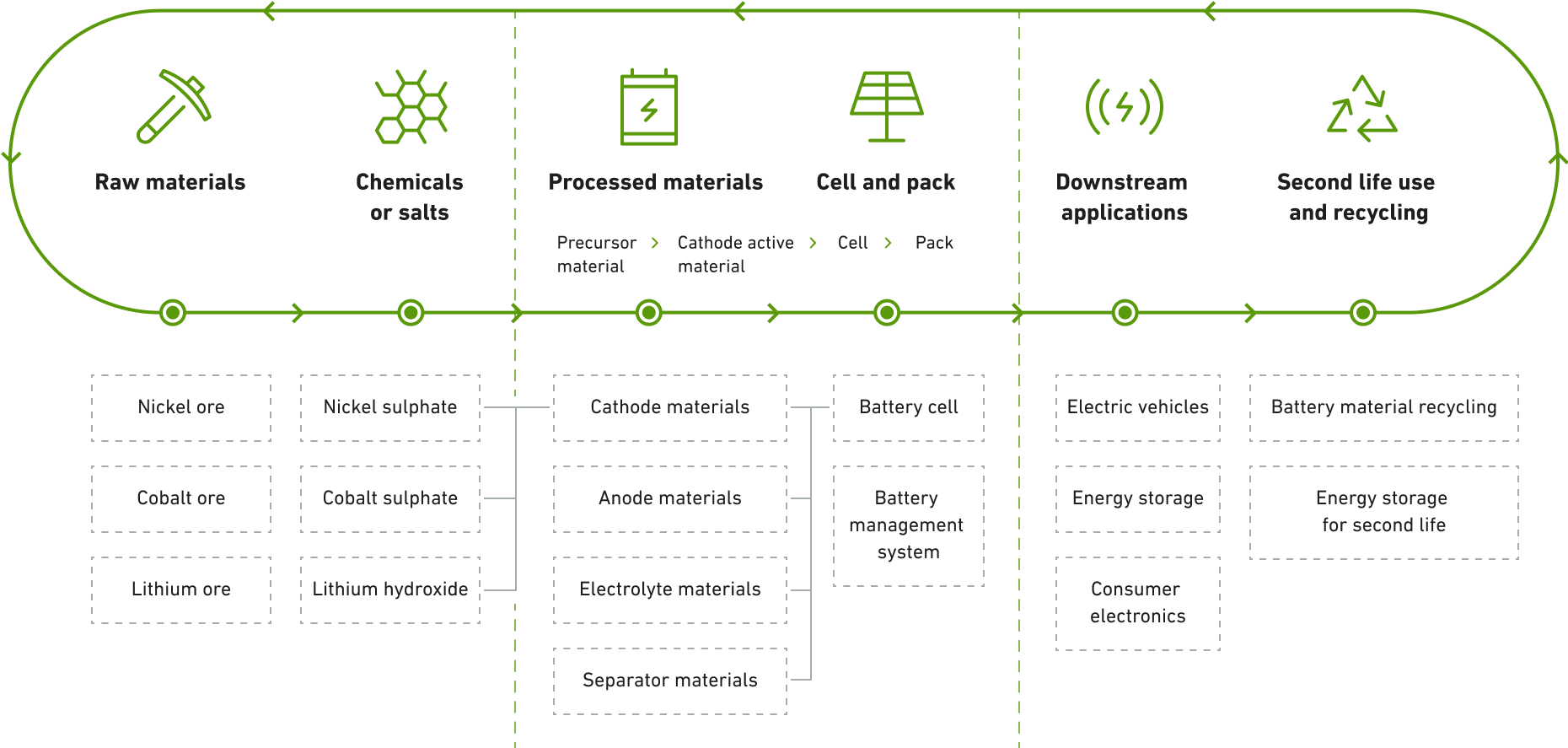 National battery strategy to support us
In its national battery strategy, the State of Finland has defined the goal of making our country a leading country in sustainable battery production and electrification by 2025. The strategy focuses on building an innovative ecosystem in the battery sector and supporting Finland's sustainable, low-carbon economic growth. The battery strategy will also contribute to the achievement of transport's climate targets.
Interested?
Would you like to have more information about our operations? Get in touch with us.